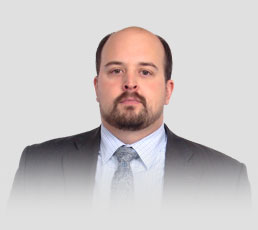 Nicholas Leydorf
Associate Attorney
Nicholas Leydorf – Drug Crimes Attorney Profile
Nicholas Leydorf brings extensive experience and unsurpassed skill in criminal defense cases to the law firm of Grabel & Associates, where he has practiced as an Associate for more than five years. Born and raised in Bannister, Michigan, Mr. Leydorf believes in a personal approach in successfully defending clients accused of drug charges and other criminal offenses, giving each 100% of his attention and focus in order to achieve the best possible outcome. Having experience in every area of criminal law, Mr. Leydorf fights vigorously to protect the legal rights and freedom of every client, using all of his skills, expertise, and extensive knowledge of the law, and delivering consistent winning results.
Fighting Hard for Clients' Rights
Although Mr. Leydorf is skilled in high profile cases, every case regardless of the offense his client is accused of is of equal importance. With his proven track record, Mr. Leydorf brings a level of experience to Grabel & Associates that is unmatched, considering his ability to achieve favorable results in all areas of criminal defense including those related to drug crimes, DUI and drunk driving, criminal sexual conduct, and more. He is also very effective when it comes to having serious felony charges reduced to misdemeanors, thereby reducing the negative impact for the clients he represents.
Confident, capable, and dedicated, Mr. Leydorf has successfully represented clients across more than fifty Michigan counties, and is highly adept at determining the most effective legal strategies which give his clients an edge in every type of criminal defense case. After graduating in 2002 from Michigan State University where he attended on a scholarship, Mr. Leydorf decided on the University of Miami to study law. He later transferred to The Catholic University of America: Columbus School of Law where he graduated with high honors in 2005.
Professional Associations and Memberships
Clinton County Bar Association
Call our law firm now from anywhere in Michigan at 1-800-342-7896 and fight back against drug crimes allegations. We are available 24/7 by phone or contact us online for a free consultation.