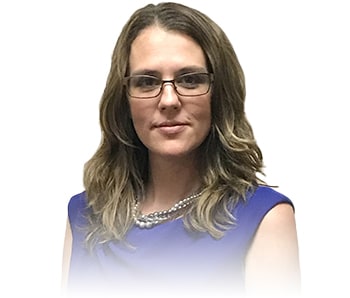 Sara MacGregor
Associate Attorney
Sara MacGregor is an attorney at Grabel & Associates who focuses her practice on defending drug cases as well as defending those who are considered juveniles in the state of Michigan. Ms. MacGregor has represented clients in many areas of criminal law, including:
Drug offenses
Juvenile cases
Substance abuse crimes
Cases involving mental health issues
Child Protective Services (CPS) cases
Theft crimes
Ms. MacGregor is a strong advocate for the idea of rehabilitation. She believes everyone deserves a second chance if they are willing to work for it. She works every day to help her clients make sure that the next step they take was better than their last. Ms. MacGregor's dedication to her clients has helped them avoid jail, maintain their sobriety, and find the right path so they don't end up in court again. She understands the imbalances in the criminal justice system and fights to make sure that her clients rights are respected and not violated. Ms. MacGregor's passion for helping others is obvious in the cases she works on and the people she works with. This passion has led to consistently positive results for her clients at Grabel & Associates.
Ms. MacGregor joined Grabel & Associates in 2015 after previously starting her career as an attorney in private practice in the city of Manistique, which is located in the Upper Peninsula. She is a panel member of the Schoolcraft County Drug Court, Military Veteran's Court, and Mental Health Court. In these courts, Ms. MacGregor works to help her clients towards rehabilitation in order to avoid jail. These courts are known as 'diversionary' courts and are meant to help tackle specific issues with certain groups of people who show a promise that they can get their substance or mental health issues under control, so they do not reoffend. If someone is successful in a diversionary court, he or she can avoid jail and/or a criminal conviction.
Ms. MacGregor was born in Arizona but has lived in Michigan's Upper Peninsula since she was a child. She grew up in the city of Manistique and graduated from Manistique high school. She finished her undergraduate studies at Northern Michigan University, graduating summa cum laude while earning a degree in Pre-Law and minors in both Communications and Chemistry. Ms. MacGregor followed that by earning her law degree from Thomas M. Cooley Law School. She began her career as an attorney in 2014 after she passed the Michigan bar exam and was licensed.
Ms. MacGregor is an active member of:
The Delta County Bar Association; and
The Schoolcraft, Luce, Alger, Mackinac (SLAM) Bar Association
In her spare time, Ms. MacGregor enjoys spending time with her family, cooking, and playing golf.
If you are facing drug or other criminal charges as an adult or a juvenile, then it is important that you speak to a criminal defense attorney that understands the difficulties of addiction, and knows how to help you avoid jail while helping you reach your goals of sobriety. Ms. MacGregor is happy to offer a free consultation to anyone facing criminal charges who is looking to have their questions answered. Call attorney Sara MacGregor today at Grabel & Associates at 1-800-342-7896 or email at saramacgregor@grabellaw.com.