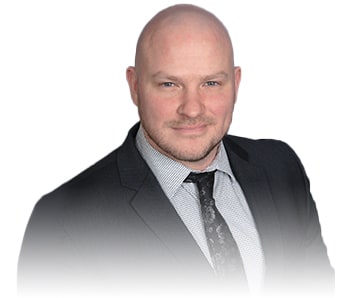 Zachary Glaza
Associate Attorney
Zachary Glaza is an attorney at Grabel & Associates who represents clients facing all types of criminal charges. He has a special interest and experience in assisting people who have been charged with various drug offenses as well as those who are seeking to reinstate their driver's licenses in the state of Michigan. Mr. Glaza has successfully represented clients facing a variety of criminal charges, including:
Possession of a controlled substance
Delivery/manufacture of a controlled substance
Maintaining a drug house
Weapons crimes
Assaultive crimes
Driver's license restoration
Throughout his time as an attorney, Mr. Glaza has tirelessly worked to not only win cases for his clients, but to also make sure his clients fully understand their case and the legal process they are facing. Mr. Glaza puts himself in his client's position to best understand what questions need to be answered and what information is most important for any given case. He understands that regular people are not legal experts, and don't fully understand the court system and its process. Mr. Glaza knows that knowledge is power, and he makes sure his clients are fully informed about their case and its possibilities so they can make confident and informed decisions. His passion for his clients is obvious not just in his case victories, but also in the relationships he forges with the people he represents.
Mr. Glaza joined Grabel & Associates in 2015 and was immediately drawn to working on drug and driver's license restoration cases. Because of this, he has become a strong advocate for both drug and prison reform in the state of Michigan. Drug and driver's license restoration cases share a common thread as most people who lose their driving privileges have had their driver's licenses revoked because of substance abuse convictions. Mr. Glaza has dedicated a large part of his practice to helping people win their driver's licenses back so they can get back on the road again. His work ethic and compassion for his clients has helped drive his success today as an attorney with Grabel & Associates.
Mr. Glaza was born and raised in Oakland County, specifically the Pontiac, MI area. He is a graduate of Milford High School and Mr. Glaza finished his undergraduate studies at the University of Michigan with a degree in computer science. He then followed that by earning his law degree from Western Michigan University – Thomas M. Cooley Law School. Mr. Glaza began practicing as an attorney in 2015 after he passed the bar exam and earned his law license.
Mr. Glaza is an active member of:
In his spare time, Mr. Glaza enjoys playing and listening to music, attending concerts, and studying ancient history.
If you are facing a drug charge or are looking to get your Michigan driver's license back, it is important to speak to an attorney who understands the correct approach towards success. Mr. Glaza is proud to offer a free consultation so you can have your initial legal questions answered without any risk or commitments. If you are looking for a criminal defense attorney ready to put in the work to help you win, then call attorney Zachary Glaza at Grabel & Associates today at 1-800-342-7896 or email at zacharyglaza@grabellaw.com.